While Madden is coming to Wii, the football franchise might be bypassing the 3DS this year.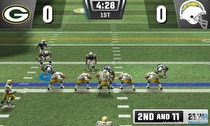 Madden might not be coming to 3DS in 2012 if retailer listings are to be believed.
The GameStop listing, which led to a confirmation of the Wii version's existence by the Wii developer's official Twitter account, only mentions the Wii, Xbox 360, PlayStation 3, and Vita versions of the game. The 3DS is not mentioned at all.
Madden NFL Football, developed by EA's North Carolina studio, was a launch title for the system in March 2011. The game was notable for being the first time Madden was on a Nintendo handheld since Madden NFL 09.
In 2009, we reported that EA wasn't putting out a DS version of the game because, according to EA Sports' Rob Semsey, "[They] set extremely high standards for quality at EA SPORTS and [they] are constantly striving to deliver the best sports experiences to our consumers."
We have reached out to EA Sports for further comment.