A new online service may have been revealed.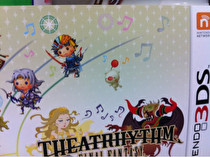 A potential new online initiative from Nintendo called Nintendo Network was revealed in a box art photo posted by Twitter user joshua_x_.
An icon in the form of a white lowercase "n" over an orange background appears in the upper right hand corner of the game box. The logo is reminiscent of the RSS logo and uses the same font as Nintendo Zone. The logo did not appear on art distributed to online retailers.
As of yet, Nintendo has not spoken about such a feature or service, although the name itself has been used before, most recently for a 3D photo contest in Japan.
Alongside the logo is confirmation that Theatrhythm's downloadable content will be paid DLC.