STOP THIEF! That guy's stylishly roller-skating away with an expensive cheese and tomato pizza!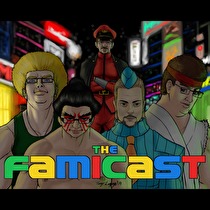 Subscribe via iTunes (Please rate and review, too!)
Newly appointed Famicrew regular Daan Koopman join JC and Danny again as they talk all things Japan!
It's a very rhythmic episode this week, which starts off with some serious talk about Japanese gaming journalism, before Daan movies onto his latest import, Kiki Trick on Wii, a game that might be worth learning Japanese and finding a Japanese friend to play with! Danny then talks about his latest non-eShop purchase, Rhythm Thief R. Is it an accurate portrayal of Parisian life or a crazy anime / Ouendan inspired game that everyone should play? Give it a listen and find out! JC then finds a few things to bitch about with his Annual Gift Man present, Mario Kart 7. Not to knock the big guy with his choice, he just wishes the game was a little more... complete.
Theatrhythm Final Fantasy DLC crops up in news, which gives Daan and Danny the chance to talk about how much they love rhythm games. Let's just say Square-Enix's pockets will be pretty full in the next few months thanks to those guys!
The show wraps up with some forum questions being answered, topics include the PS Vita reaction, differences in gibberish and over-priced Japanese pizza! Stop by the Japan thread if you want to ask some questions of your own, or e-mail famicast@nintendoworldreport.com
So strap yourself in, grab your copy of Nintendo Dream - it's Famicast a go-go baby!
This podcast was edited by Danny Bivens.
Music for this episode of The Famicast is used with permission from 8 Bit Weapon. You can purchase their music and shirts from their website 8bitweapon.com
Additional music for this episode of The Famicast is copyrighted to Nintendo, and is included under fair use protection.