A good mix of arms and stuff, plus the remainder of the roster.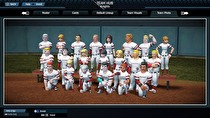 Pitchers
SP Dimitri Blaiddyd (#4)
Known for trying to "K every last one of them," he had to have corrective surgery because the league won't let him wear an eyepatch on the mound. The tall lefthander has the most, um, complicated relationship with the front office. Known for a fastball that breaks into three digits and surprising durability, though if someone CAN get on base he tends to be slightly less effective. Comparable: Randy Johnson.
SP Ignatz Victor (#22)
The team's #2 starter, a junk-throwing right hander who loves to paint the corners is the perfect follow-up to a moose like Dimitri. Doesn't have one dominant pitch, but has the most pitch variety on the team. Comparable: Marco Estrada (2015-16).
SP Leonie Pinelli (#26)
Won't shut up about how she learned how to pitch after going to a baseball school headed up by Jeralt Eisner (Byleth's father), a hard throwing sinkerball pitcher who might be the best on the team at keeping the ball in the ballpark. Comparable: Dan Haren.
SP Bernadetta Varley (#10)
There aren't enough sports psychologists in the world to help poor Bernie, so the team elected to only have her come out of her hotel room every four days to pitch. Thankfully, when she does pitch, her splitter is lethal and her cut fastball is pretty good as well. Comparable: Steve Blass.
SP/RP Ashe Ubert (#15)
Byleth has had success with using Ashe as an "opener" in AAA, and his role will be similar in the big leagues. Fiercely loyal, and accurate as hell, he forces opposing managers into difficult decisions with a curveball once called "Lord Charles." Comparable: Sergio Romo.
RP Linhardt Hevring (#9)
Major League Baseball might have killed the idea of the left-handed one-out guy by bringing in the three-batter minimum, but the Super League has no such compunction. As such, the team's laziest pitcher can arrive, get the slugger out with his array of breaking stuff, and leave. Comparable: Randy Choate.
RP Lysithea Ordelia (#23)
She's going to be the team's closer some day, but right now she's the team's leverage reliever. Bases loaded, nobody out, need to protect a one-run lead? No worries, Lysithea will break radar guns and get out of the situation without allowing any inherited runners to score. And she's a rookie! Comparable: 1995-96 Mariano Rivera or 2002 Francisco Rodriguez.
RP Dorothea Amault (#11)
The current closer who comes in and caps off the game with one pitch: a cut fastball. Nobody has been able to catch up to it yet. Also the only reliever in the game who sings her own music when coming in from the bullpen. Comparable: Daniel Hudson.
Bench
C Raphael Kirsten (#21)
Ignatz's personal catcher also gets starts against left-handed pitching, even if Dedue doesn't complain much. Most likely to be seen at the postgame spread. Comparable: David Ross, 2016
IF/OF Caspar Bergliez (#8)
The team's utility player, also a strong power bat from the right side but doesn't really have a role as he's not all that fast. Comparable: Ben Zobrist after a leg injury.
IF Lorenz Gloucester (#20)
Signed with the team to "try and keep Claude in line," but he struggled with the bat and quickly got lapped by Petra. Still has some moments of magic, but most of the clubhouse just ignores his prima donna ways (except for Lysithea, who is often seen using his bat for batting practice). Comparable: Roger Dorn.
OF Sylvain Gautier (#16)
Currently benched after trying to hit on the female members of the team. All of them. Including the manager. And a few fans, media members, and peanut sellers as well. When not in the doghouse, is a speedy outfielder and frequent defensive replacement. Comparable: Alex Rios.
And if you're wondering how the team performs, we happen to have a game for you as the Knights took on the Memramcook Moose, my team from the first two Super Mega Baseball games, in the franchise's first ever game. It ended up even more historic than first advertised: