In general, this team hits like a truck.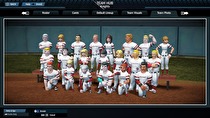 CF Claude Riegan (Uniform #5)
After posting from Almyra, Claude has the potential to be an unholy union of Griffey Jr, Ichiro, and 1980s Rickey Henderson. He's ungodly fast AND smart with the stolen base attempts, but also has a sweet swing and surprising pop from the leadoff spot. Has to play center field after trying to pull the hidden ball trick four times in a week once. Comparable: Mike Trout
RF Ferdinand Aegir (#7)
Has tremendous loyalty to the team itself, even if he's admitted in interviews that he'd like to depose Edelgard and run the show himself. A real clubhouse lawyer. But he backs it up with patience—even if Eisner and hitting coach Catherine Charon encourage swinging at the first pitch—and the ability to make solid contact, including the first grand slam in team history. Comparable: George Springer.
3B Petra Macneary (#12)
She occasionally struggles with the language barrier, but that's about the only thing she has trouble with (and she's learning). Top class power, hits well, and plays an elite third base—which is handy considering she only took up the position last year. Comparable: Josh Donaldson ca. 2015
1B Felix Fraldarius (#14)
The comparisons to Barry Bonds are common: both hit hard and are generally unpopular with their teammates (The next hitter in the lineup asked to change positions just so she'd be farther from Felix on a regular basis). Except if you accused Felix of using PEDs, he'd probably take your head off: whether by ripping it or just hitting a screaming line drive right at it. Comparable: Bonds or Richard "Dick" Allen.
LF Ingrid Galatea (#19)
Provides good protection for Felix as well as sneaky speed and terrific left field defense. Needless to say, this outfield can FLY. Apparently started hitting harder when she took up axe throwing in the off-season: Knights fans aren't sure how that works, but they won't complain. Her batting average on balls in play (BABIP) goes up by 150 points after the sixth inning, so she gets a lot of critical hits. Comparable: What the media thought Derek Jeter was.
DH Hilda Goneril (#25)
Most likely to hang out in the clubhouse and let others do the work, she was occasionally the big gun off the bench before the league adopted the designated hitter this year. In a pinch, she provides some speed in the outfield, but really she just wants to hit. This drives Byleth nuts since if she played the outfield regularly, she'd probably save forty runs a year. Comparable: Bobby Bonilla when he played for the Pirates.
C Dedue Molinaro (#13)
Somehow, the team ended up with two personal catchers. Dedue is the left-handed hitter of the platoon, so he gets the majority of the starts behind the plate. He calls a good game for the other pitchers but really tends to defer to the team's ace when catching him. Also surprisingly popular with the Dedudes who sit in one of the sections behind the plate at every home game (motto: "Every day is Deduesday"). Comparable: Yadier Molina.
2B Annette Dominic (#18)
She makes magic up the middle with her double-play partner and old friend Mercedes, but the scouts and batting practice pitchers agree: Annette is the most powerful hitter on the roster. Comparable: Javier Baez.
SS Mercedes Martritz (#17)
Definitely the team's most selfless player: runs all over the field to make plays, and has more sacrifice bunts and sac flies than anyone. Probably isn't going to qualify for the batting title as a result, but she doesn't care as long as it helps the team win. Comparable: Andrelton Simmons.