Happy Happy Blue Blue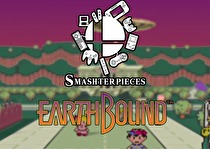 Load up your backpacks, grab your skip sandwiches, and brandish your baseball bats cause we're finally heading out on our adventure in Eagleland! Presented by Anonymous Dinosaur and Nintendo World Report, this is Smashterpieces - a casual walk through the history of the Super Smash Bros. Ultimate Roster. On this show, hosts Joe DeVader and Matt Zawodniak are playing one game for every fighter in the newest Super Smash Bros. game, from 1984's Duck Hunt to 2017's The Legend of Zelda: Breath of the Wild. Each game will be live-streamed by both of us, and then we'll convene to talk about it on the podcast.
Today's episode is the first part of our discussion on Smashterpiece #17: Earthbound. In this episode we talk about our qualms with the game's early hours, through Onett, Twoson, and Happy Happy Village. Why do we feel it's now obvious why we would have bounced off the game in our younger years? What quirky things does the game do right? In what ways was Earthbound seemingly ahead of its time, and in what ways do we find it to be a little bit dated? All this and more in today's episode!
We'll be back in a few weeks time with part two as we continue our psychic adventures and recruit our third party member on our way to the big city.
You can find previous episodes at Anonymous Dinosaur's website!
Our list of games can be found here!
You can watch Joe stream here! Matt will be streaming Earthbound on NWR's Twitch Channel.