Wecomel to Soonmide.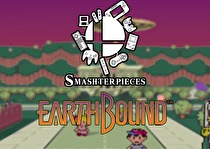 After trekking through the desert and dealing with the most evil entity of all (traffic), we have finally arrived in the big city of Fourside! Presented by Anonymous Dinosaur and Nintendo World Report, this is Smashterpieces - a casual walk through the history of the Super Smash Bros. Ultimate Roster. On this show, hosts Joe DeVader and Matt Zawodniak are playing one game for every fighter in the newest Super Smash Bros. game, from 1984's Duck Hunt to 2017's The Legend of Zelda: Breath of the Wild. Each game will be live-streamed by both of us, and then we'll convene to talk about it on the podcast.
That's right, it's finally time for Joe and Matt to continue their discussion on Smashterpiece #17, Earthbound. In this episode we discuss the hustle and bustle of Fourside, the nonsensical nature of Moonside, and the introduction to the warrior prince Poo. We finally have our full team and are ready to take on whatever comes our way!
… We hope, because frankly it's still a long road from here. Join us next time as we continue our psychic adventure through Eagle Land, hopefully bringing it to its conclusion. Next stop: Scaraba or bust!
You can find previous episodes at Anonymous Dinosaur's website!
Our list of games can be found here!
You can watch Joe stream here! Matt will be streaming Earthbound on NWR's Twitch Channel.