In Winters, there is a genius.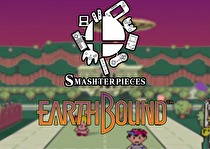 With our adventure in the happy suburbs of Twoson complete, it's time to hop on a bus and head to the creepy town of Threed and beyond! Presented by Anonymous Dinosaur and Nintendo World Report, this is Smashterpieces - a casual walk through the history of the Super Smash Bros. Ultimate Roster. On this show, hosts Joe DeVader and Matt Zawodniak are playing one game for every fighter in the newest Super Smash Bros. game, from 1984's Duck Hunt to 2017's The Legend of Zelda: Breath of the Wild. Each game will be live-streamed by both of us, and then we'll convene to talk about it on the podcast.
In this extremely short part two of our discussion on Earthbound we dive into zombie infested streets, meet a new friend with a knack for invention, and even spend the night in a town full of weirdos that keep shouting "ZIP" and "BOING" for some reason. Ignore the bad smell coming out of the nearby factory and join us as we continue this psychic journey together!
Very sorry for the shorter episode, the next one will be much more substantial! We wanted to at least get something out rather than nothing, so we hope you at least enjoy this little mini update on our progress. Join us again in a few weeks as we head to the big city (for real this time) and also meet our fourth and final party member.
You can find previous episodes at Anonymous Dinosaur's website!
Our list of games can be found here!
You can watch Joe stream here! Matt will be streaming Earthbound on NWR's Twitch Channel.