Meet our Alolan Champions.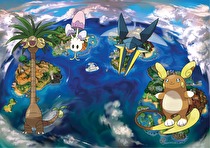 You've traveled four islands. You've faced seven trials. You've saved some lady. You've captured like an alien Sun/Moon god or something. Are you ready to meet and defeat the Elite?
Four Nintendo World Report staffers share the teams that carried them to the Alolan championship throne. Together, they are know as the Elite Four of the Nintendo World Report region.
Do you think you can challenge our teams? Leave your team in the Talkback.