Check out some upcoming licensed products from Mario, Zelda, Pokémon, and more!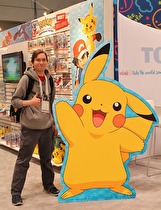 I was fortunate enough to check out the latest upcoming toys at the annual New York Toy Fair this past weekend. Of course, as a Nintendo collector, I had to go around and make sure to get an early look at some of the Nintendo licensed products that we can expect in the near future.
So click through the following pages to check out merchandise from the Mario, Zelda, and Pokémon franchises. Oh yeah, we have also included some extra pictures of some upcoming licensed products from select third party franchises that have appeared on Nintendo platforms. Enjoy!