There might not be much, but there will be some pretty heavy hitters at the show.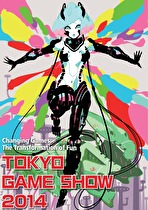 The Tokyo Game Show is typically not a time for Nintendo titles to shine as the Big N never makes it out to the event. That still doesn't stop third parties from showing off titles from year to year and 2014 is no different. TGS 2014 not only has some pretty cool titles that gamers will be able to get their hands and eyes on for the first time, it also has exclusive stage events with Japanese development teams, mountains of swag, crazy cosplayers, and marks the first public showcase of the New Nintendo 3DS. We here at NWR are going to be at the show and will bring you coverage of the games that you want (or don't want) to read about!
As I mentioned above, both of the New Nintendo 3DS models (both the XL and its smaller brother) are going to be at the show. Attendees who play through the single player demo of Monster Hunter 4G will be able to game on the New 3DS XL, while the multiplayer demo will feature the standard New 3DS. We're going to do our best to procure our spot in line to play on the new system before the show is up!
Two other big name titles from Square Enix in the form of Bravely Second, and Final Fantasy Explorers are also going to be at the show, so you can look forward to some hands on impressions of both games before the show comes to an end.
Below is the current list of titles for 3DS and Wii U that are going to be at the show. We hope you guys enjoy the written content as well as the upcoming Famicast that will be sure to follow shortly after the show!
Koei Tecmo Games
Samurai Warriors Chronicles 3 (3DS) - demo, video, stage event (9/20, detailing the game and celebrating ten years of the series)
Hyrule Warriors (Wii U) - demo, video, stage event (9/18, 9/19 with producer Yosuke Hayashi talking about the game and information about the potential future of the series, 9/20 Hyrule Warriors Game Competition)
Fatal Frame V (Wii U) - stage event video (9/20)
Bandai Namco Games
Tales of the World: Reve Unitia (3DS) - demo, video
Haikyū! Tsunage! Itadaki no Keshiki!! (3DS) - video
Nana-tsu no Taizai Shinjitsu no Enzai - Unjust Scene (The Seven Deadly Sins, 3DS) - video
Capcom
Monster Hunter 4G (3DS) - demo with New Nintendo 3DS, stage event/live broadcast (9/20. 9/21 with producer, Tsujimoto and director, Kaname Ryozo Fujioka covering new gameplay elements for the game)
Dai Gyakuten Saiban (New Ace Attorney Title, 3DS) - special theater, stage event/live broadcast (9/20. 9/21 with producer Shintaro Kojima and director Shū Takumi)
Sega (and partners)
Hero Bank 2 (3DS) - demo, video, broadcast (9/19 with executive producer Minoru Hiroshi, and producer, Yoichi Shimosato detailing the latest information about the game)
Puyo Puyo Tetris (3DS, Wii U) - demo, video, broadcast (9/20, special talk show with voice actors Kaoru Mizuhara, Kanako Kondo, Kaoru Sakura joining Muzuki Hosoyamada)
Sonic Boom: Shattered Crystal (3DS) - demo, video broadcast (9/21, with producer Takahashi Izuka and director Nakajima-san introducing the game)
Sonic Boom: Rise of Lyric (Wii U) - demo, video broadcast (9/21, with producer Takahashi Izuka and director Nakajima-san introducing the game)
Etrian Odyssey 2 Untold: The Knight of the Fafnir (3DS) - video
Konami (and partners)
Osawari Tantei Ozawa Rina Nameko Rhythm (3DS) - demo, stage show, video
Square Enix
Dragon Quest X: Online (3DS, Wii, Wii U) - video, stage show/broadcast (9/20, event streamed live on Nico Nico Video)
Final Fantasy Explorers (3DS) - demo, video
Bravely Second (3DS) - demo, video, stage event/broadcast (9/19, with producer Tomoya Asano, assistant producer Shinji Takahashi accompanied by guests Goemon-san from Dengeki Online and voice actor Mai Aizawa talking about development of the game and also a stage demo)