A familiar voice returns to the show this month to talk about Smash Bros. on 3DS, pre-TGS news, listener mail and more!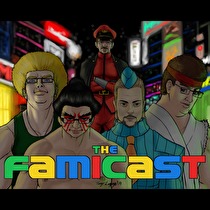 Subscribe via iTunes (Please rate and review, too!)
Wait, a Famicast so early on in the month? What magic is this? Well it just so happens that a rather large game came out this week, so two Famidudes set about to get a podcast for you as soon as possible! Whereas you may have watched streams and read about Smash Bros for 3DS from guys playing it in the US, this is the only place you'll hear about the online modes as played by two dudes living in Japan! In fact, the whole of New Business is just about Smash, so listen and enjoy some spoiler-free talk on the single player modes, the StreetPass mode and of course the long-awaited oh-God-I-hope-it's-better-than-Brawl online mode. How does it fare? Listen in for the definitive verdict!
After all that Smash talk, the guys delve into the news; listen in to find out what Mega-men and Ice-Splashers are and where you can eat them. Also hear about some comments from Japanese gamers playing Dragon Quest X on the 3DS. Are they happy with the new portable version?
The show wraps up with your letters, on two very different topics, one on MMOs on Nintendo systems, the other which may have not been entirely suitable for the Famicast, but hey, we're glad to get any letters! Of course, if you have any questions, comments, complaints or criticisms, be sure to hit us up! You can leave a message in the Talkback below, send an email to famicast@nintendoworldreport.com, tweet at us @thefamicast, or post in the revamped Questions for the NWR Japan crew forum thread.
We've been playing the "pronoun game" in these show notes, as we don't want to give away the surprise for who is on the show, but long-term fans of the Famicast will surely hear a familiar voice! So pause that Smash demo for a moment, grab a Thunder-Ale, and listen to the best (and only) Nintendo podcast right out of Japan!
Famicast a GO-GO baby!
This podcast was edited by Danny Bivens.
Music for this episode of The Famicast is used with permission from 8 Bit Weapon. You can purchase their music and shirts from their website 8bitweapon.com
Additional music for this episode of The Famicast is copyrighted to Nintendo, and is included under fair use protection.