The Shovel Knight dev recalls playing Super Mario Bros. 2 with his mom.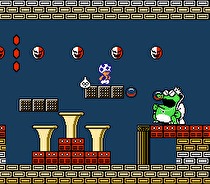 At 7 years old, I was terrible at finishing games. I remember getting through a couple dungeons in The Legend of Zelda, but never seeing the raft. I remember getting to the levels in Super Mario Bros. where the sky was black but never seeing the crazy amount of hammers emitting from that last Bowser. I remember using warp pipes to eek out progress as far as I could into the dream world of Super Mario Bros. 2, but never seeing Wart. That was until I let my Mom have a go.
She, not being much of a video game player, took to jumping over enemies and digging up radishes like a pro. It was awesome; I told here where secrets were and where to put the potions, and she deftly maneuvered her way through the levels up until the final boss. At a certain point, I was unable to help at all, since we had gotten to levels I had never seen before. All I could do was sit there and hope that Mom could get through the waves of Snifits, Shy Guys, and those horrible Phantos. And then it happened, the screen changed and I heard the boss music start up. It was perfect, we had a dozen lives (my mom was somehow really great at the slot machine mini-game) and just one more foe.
She entered the room and there, with that stupid, fat grin on his face, stood Wart. I was glued to the screen and had forgotten how to blink. Mom ran in and suddenly bubbles were everywhere and radishes and pumpkins shooting through the air, and no mushroom blocks to dissuade the torrent of projectiles. After a few seconds of assessing the situation, Mom died. That was ok, we had plenty of lives and all the time in the world to figure this out. Our plan was to jump right over where the veggies popped out so that we could ride them through the air in order to pick them up before landing; just like the Birdo eggs. We didn't know that if you let the veggies fall on your head, you would just grab them. That mistake cost us many subsequent lives before we accidentally discovered that trick.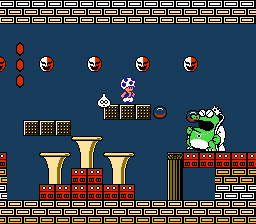 It was down to the wire, only three lives left and Mom was getting into the groove. She'd gotten to the point where she could grab the radish out of the air and land without getting hurt but the timing of throwing it into Wart's mouth was still a little tricky. Two successful hits in and Mom died. Next life went very much the same: bubbles came out right as the radish was thrown breaking the radish and killing Mom. We were getting pretty tense. It was down to the wire; we had only one life and one hope for defeating this terrifying foe. Then, in that final life, while avoiding bubbles and throwing vegetables at the frog, Mom pulled a miracle out of nowhere and hit Wart for the third time, I nearly jumped with excitement as the assumed victory had been acheieved.....the problem is, he takes a lot more hits than three. Wart still lived. Unlike the other bosses in the game, he requires the player to learn three completely new concepts: Catch the veggies on your head, Wart only gets hurt when his mouth is open, and he takes more than three hits before dying. In a fluster, Mom died and we saw the most horrible screen ever conceived....the game over screen. As the start-up screen showed up again, and that once happy music began to play, she looked to me and I asked " are we gonna try again?" She balked at the idea and said "no, sweety, I think I'm done." And my Mom has not played a video game since...
I hate Wart...