A few NWR community members sent in their fond recollections.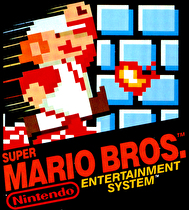 As a kid I loved watching cartoons. When I was about 4 years old, my mother and I took a trip to Quebec to visit my grandparents. One of my cousins was also there at the time, and she had brought what I thought was a strange-looking VCR called a "Nintendo". Even stranger were the flat, grey cassettes called "video games" with stickers of blocky "cartoon" characters on them.
She tried to explain that it was a game system, but having never seen one, I didn't understand. Until she booted it up, and then started MOVING the cartoon character around with the "remote control!" She let me try it, and I recall being absolutely mesmerized by the fact that I could actually control a cartoon character! The game was, of course, Super Mario Bros, and has since sparked my imagination to a world of interactive creativity. It is one of my most vivid memories to this day; the day when cartoons became not just something to watch, but something to be a part of. - Jean of mArc
I'm more of a Super Nintendo man myself, but I think my major NES memory was beating Super Mario Bros 2 - the first game I ever managed to beat on my own.
It took about four months of constant play, reading about warp zones since battery backup was saved for Zelda II, and several dirty looks from my parents, but it was really the first time I ever feel I accomplished something.- Shaymin