The Luigi's Mansion: Dark Moon developer has quite a few delightful NES memories.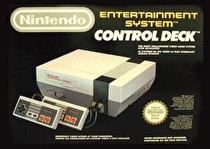 I have an Nintendo Entertainment System (NES) on my desk here at Next Level Games. As I look at it, it brings me back to the days of VCRs, dual-cassette decks, and word-of-mouth tales of upcoming video games from Japan.
My first experience with the NES was at my older cousin's house. This is where I was introduced to Tecmo Bowl, Mike Tyson's Punch-Out!! and Mario Bros. -- I played as Luigi.
My family purchased the NES Action Set, which included a Control Deck, NES Zapper, two Controllers, and the Super Mario Bros/Duck Hunt dual Game Pak. In those days, rather than consoles we had Control Decks that used Game Paks -- this terminology made our video games feel indestructible (Note: Dust and dirt later surfaced as its weakness).
NES was the first video game system where I practiced my game-playing skills and eventually surpassed my Dad's high scores. The NES got me into reading more often, too. At the time, I didn't have much interest in books but the monthly issues of Nintendo Power got me into appreciating the written word!
The neighborhood kids all seemed to get the NES around the same time. The parental network would consult regularly to keep the local game library diverse; all of the kids had different games. This strategy worked out, as visiting a friend's house would lead to playing different games and trading. The NES really brought many people in our neighborhood together to play!
Now that I'm a few years older, it's exciting for me to see NES games being released on the 3DS and Wii U eShop. The hardware limitations back then drove innovation in game design, leading to some amazing games on the NES. Releasing these classics on current hardware gives gamers an accessible way to experience the roots and influences of modern video games, and also give game developers, like me, a reminder of why we love what we do.