Two years and man, are we playing a bunch of 3DS.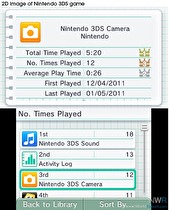 Most of the Nintendo World Report staff has had their 3DS systems for more than two years, and we have all played a lot of games. So, for the fourth time, check out each staffer's five most played games on their 3DS. We're getting to a point where we have more variety, as close to 50 games are represented in the 21 different lists we have.
Mario Kart 7 made the most appearances, showing up on 10 lists. After that, Super Mario 3D Land, Kid Icarus: Uprising, and Ocarina of Time 3D all appeared on nine lists, New Super Mario Bros. 2 was on eight, and Fire Emblem Awakening, this year's hottest game, was on seven. I assume once we get to the next go-round, Animal Crossing and Luigi's Mansion will have more appearances.
For those third-party fans, very few games appeared on multiple lists. Resident Evil: Revelations, Theatrhythm, Kingdom Hearts 3D, and Etrian Odyssey IV were the only third-party games to show up on more than one list, and they only all appeared on two.
Check out all the lists below, and feel free to share your own in the forums!
Alex "Hearts Mystery Dungeon" Culafi
Ocarina of Time 3D (52:36)
Super Mario 3D Land (37:51)
Kingdom Hearts 3D (33:09)
New Super Mario Bros. 2 (30:56)
Pokémon Mystery Dungeon: Gates to Infinity (30:07)
Andrew "Koala Moon" Brown
Ocarina of Time 3D (69:10)
Mario Kart 7 (62:40)
New Super Mario Bros. 2 (56:59)
Luigi's Mansion: Dark Moon (41:01)
Professor Layton and the Miracle Mask (39:14)
Carmine "System Features" Red
Swapnote (81:39)
StreetPass Mii Plaza (43:38)
Kid Icarus: Uprising (43:00)
Heroes of Ruin (34:45)
3D Solitaire (27:42)
Curtis "Ocarinawakened" Bonds
Fire Emblem Awakening (36:32)
Ocarina of Time 3D (36:23)
Super Mario 3D Land (24:03)
Mario Kart 7 (16:11)
New Super Mario Bros. 2 (15:10)
Danny "Look at me, I live in Japan" Bivens
Theatrhythm (56:38)
Itsu no Ma ni Terebi (video service) (31:17)
Dragon Quest VII (22:21)
Pushmo (19:44)
Rhythm Thief and the Emperor's Treasure (15:39)
Guillaume "The Fortress" Veillette
Etrian Odyssey IV (61:21)
Dragon Quest VI (42:23)
Mario Kart 7 (35:57)
Kid Icarus: Uprising (35:07)
New Super Mario Bros. 2 (31:20)
Jared "E. Honda" Rosenberg
Super Street Fighter IV (65:03)
Super Mario 3D Land (32:52)
Ocarina of Time 3D (31:16)
Mario Kart 7 (27:49)
Pilotwings Resorts (21:13)
Jonathan "Woefully on His Second 3DS" Metts
Paper Mario: Sticker Star (31:50)
New Super Mario Bros. 2 (19:43)
Fluidity: Spin Cycle (15:17)
Fire Emblem Awakening (13:54)
Crimson Shroud (11:01)
Jon "The Monster Hunter" Lindemann
Super Mario 3D Land (29:44)
Monster Hunter 3 Ultimate (14:30)
Mario Kart 7 (9:25)
Pushmo (2:36)
Gunman Clive (2:03)
J.P. "Has Beaten Mutant Mudds 40 Freaking Times" Corbran
Mutant Mudds (30:05)
Super Mario 3D Land (21:21)
New Super Mario Bros. 2 (17:03)
Ocarina of Time 3D (15:40)
Telegraph Sudoku & Kakuro (15:32)
Justin "Layton Lover" Berube
Fire Emblem Awakening (89:15)
Kid Icarus: Uprising (57:06)
Nintendogs+Cats (55:13)
Mario Kart 7 (50:44)
Professor Layton and the Miracle Mask (49:02)
Kim "2011" Keller
Pokémon White (67:32)
Fire Emblem: The Sacred Stones (64:03)
Kid Icarus: Uprising (63:32)
Mario Kart 7 (38:41)
Professor Layton and the Last Specter (27:42)
Michael "Radiant Mole" Cole
Fire Emblem Awakening (45:09)
Radiant Historia (41:58)
Super Mario 3D Land (18:15)
Mole Mania (14:34)
Kid Icarus: Uprising (13:12)
Minoru "Look at me, I am Japanese" Yamaizumi
Kid Icarus: Uprising (131:21)
Etrian Odyssey IV (59:38)
Resident Evil: Revelations (52:50)
Animal Crossing: New Leaf (51:12)
Resident Evil: The Mercenaries 3D (50:45)
Neal "Sorry To Keep You Waiting" Ronaghan
Kid Icarus: Uprising (45:33)
Mario's Picross (39:24)
Fire Emblem Awakening (28:04)
Super Mario 3D Land (22:48)
New Super Mario Bros. 2 (21:25)
Nick "Nick-tendo 64" Bray
Ocarina of Time 3D (20:56)
Mario Kart 7 (14:34)
Super Mario 3D Land (12:16)
Pilotwings Resort (12:15)
Star Fox 64 3D (6:31)
Tom "PokéKart" Malina
Mario Kart 7 (62:59)
Pokémon Black (36:08)
Pushmo (28:02)
Super Mario 3D Land (22:38)
Professor Layton and the Miracle Mask (21:45)
Trick "Abyss-mal" Barnett
Tales of the Abyss (41:30)
Fire Emblem Awakening (35:47)
Kid Icarus: Uprising (34:17)
Kingdom Hearts 3D (25:26)
Professor Layton and the Miracle Mask (22:50)
Tyler "No, Seriously, My Kid Played Freakyforms" Ohlew
New Super Mario Bros. 2 (46:42)
Freakyforms (33:04)
Ocarina of Time 3D (29:49)
Fire Emblem Awakening (25:40)
Kid Icarus: Uprising (23:30)
Zach "Revelaitrhythm" Miller
Resident Evil: Revelations (82:09)
Theatrhythm (43:35)
Picross 3D (38:45)
Mario Kart 7 (29:21)
Ocarina of Time 3D (28:16)
Zack "Generation Behind" Kaplan
Animal Crossing: Wild World (50:59)
Grand Theft Auto: Chinatown Wars (30:37)
Ocarina of Time 3D (30:14)
Pilotwings Resort (22:05)
Metal Gear Solid: Snake Eater 3D (20:47)