What has your NWR Staff been playing on their 3DSes?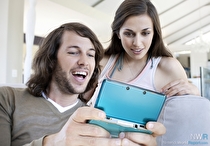 The 3DS has been out for more than a year and a half, so it seemed like a good time to catch up with our personal playtimes. Everyone seems to be playing Mario games, with Mario Kart 7 appearing on a record 10 of the 23 lists. New Super Mario Bros. 2 and Super Mario 3D Land appeared on nine and eight lists respectively. The Legend of Zelda: Ocarina of Time 3D (9), Kid Icarus: Uprising (8), and StreetPass Mii Plaza (8) were the other most recurring titles. The most played third-party title? Theatrhythm, with appearances on six lists.
Feel free to share your list in the Talkback thread!
Aaron Kaluszka
Super Mario 3D Land (96:13)
Kid Icarus: Uprising (62:42)
StreetPass Mii Plaza (21:02)
Zen Pinball 3D (19:32)
Mario Kart 7 (18:42)
Alex Culafi
The Legend of Zelda: Ocarina of Time 3D (52:33)
Super Mario 3D Land (36:12)
Kingdom Hearts 3D (33:05)
Nintendogs + Cats (29:00)
New Super Mario Bros. 2 (27:32)
Andrew Brown
Mario Kart 7 (61:36)
StreetPass Mii Plaza (51:41)
New Super Mario Bros. 2 (49:37)
The Legend of Zelda: Ocarina of Time 3D (48:39)
The Legend of Zelda: Minish Cap (30:18)
Ariel Ruff
Mario Kart 7 (56:27)
Pokémon White (45:30)
Ghost Recon: Shadow Wars (43:10)
Yu-Gi-Oh! 5D's World Championship 2011 (40:26)
Kid Icarus: Uprising (38:05)
Carmine Red
Heroes of Ruin (34:34)
Mario's Picross (26:55)
Swapnote (18:50)
StreetPass Mii Plaza (16:56)
Theatrhythm Final Fantasy (12:36)
Daan Koopman
Fire Emblem: Awakening (50:11)
Theatrhythm Final Fantasy (35:10)
Super Mario 3D Land (34:51)
Mario Kart 7 (33:14)
New Super Mario Bros. 2 (26:05)
Danny Bivens
Theatrhythm FInal Fantasy (56:08)
Nintendo eShop (54:44)
Itsu no Ma ni Terebi (SpotPass TV) (31:17)
Pushmo (19:37)
New Super Mario Bros. 2 (16:42)
Guillaume Veillette
StreetPass Mii Plaza (41:51)
Mario Kart 7 (35:57)
Kid Icarus: Uprising (35:07)
Zen Pinball 3D (23:05)
New Super Mario Bros. 2 (22:59)
James Jones
Netflix (88:30)
Tales of the Abyss (51:34)
New Super Mario Bros. 2 (31:19)
StreetPass Mii Plaza (21:05)
The Legend of Zelda: Ocarina of Time 3D (18:20)
Jon Lindemann
Super Mario 3D Land (13:49)
StreetPass Mii Plaza (12:33)
Mario Kart 7 (9:25)
Swapnote (7:53)
Pushmo (2:21)
Jonathan Metts
New Super Mario Bros. 2 (14:13)
Kirby and the Amazing Mirror (9:50)
Wario Land (5:03)
Fractured Soul (4:38)
Kid Icarus: Of Myths and Monsters (4:07)
Josh Max
Pokémon Conquest (127:37)
Pokémon White (113:06)
Pokémon SoulSilver (84:30)
Final Fantasy Tactics A2 (40:04)
Fire Emblem: The Sacred Stones (37:22)
J.P. Corbran
Mutant Mudds (20:19)
Cradle of Rome 2 (16:09)
The Legend of Zelda: Ocarina of Time 3D (15:40)
Telegraph Sudoku & Kakuro (15:32)
Super Mario 3D Land (14:56)
Justin Berube
Kid Icarus: Uprising (57:06)
Nintendogs + Cats (55:13)
Mario Kart 7 (50:44)
The Legend of Zelda: Ocarina of Time 3D (45:18)
New Super Mario Bros. 2 (40:56)
Karlie Yeung
Nintendogs + Cats (35:04)
StreetPass Mii Plaza (19:51)
Pokémon Rumble Blast (19:27)
Swapnote (18:04)
Pokédex 3D (4:51)
Mike Gamin

Pokémon White (133:45)
The Legend of Zelda: Ocarina of Time 3D (40:14)
Dragon Quest IX (38:17)
Mario Kart 7 (30:17)
Mario's Picross (23:43)
Minoru Yamaizumi
Kid Icarus: Uprising (131:21)
Resident Evil Revalations (52:50)
Resident Evil: The Mercenaries 3D (50:45)
Bravely Default Flying Fairy 5th Demo (41:39)
StreetPass Mii Plaza (36:17)
Nate Andrews

Theatrhythm Final Fantasy (28:24)
Super Mario 3D Land (15:38)
The Denpa Men (14:59)
Fractured Soul (6:56)
Pushmo (3:41)
Neal Ronaghan
Kid Icarus: Uprising (45:21)
Super Mario 3D Land (22:48)
New Super Mario Bros. 2 (20:22)
The Legend of Zelda: Ocarina of Time 3D (19:59)
Theatrhythm Final Fantasy (19:17)
Patrick Barnett
Tales of the Abyss (41:30)
Kid Icarus: Uprising (34:09)
Golden Sun: Dark Dawn (31:16)
Kingdom Hearts 3D (25:26)
Okamiden (21:27)
Tom Malina
Mario Kart 7 (60:31)
Pushmo (28:02)
Pokémon Black (25:20)
Super Mario 3D Land (22:19)
Professor Layton and the Unwound Future (20:34)
Tyler Ohlew
Freakyforms (30:30)
The Legend of Zelda: Ocarina of Time 3D (29:31)
Kid Icarus: Uprising (23:30)
Kingdom Hearts 3D (19:02)
Resident Evil: Revelations (17:07)
Zach Miller
Resident Evil: Revelations (81:50)
Swapnote (56:49)
Theatrhythm (39:37)
Mario Kart 7 (29:21)
The Legend of Zelda: Ocarina of Time 3D (28:16)