A game doesn't have to innovate to entertain.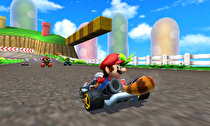 For nearly two decades, the Mario Kart series has set the bar for multiplayer on Nintendo systems. And following its predecessors, Mario Kart 7 delivers what is arguably the first must-have multiplayer experience on the 3DS.
Setting itself apart from many of the other games on this list, Mario Kart 7 has little of what could be called innovation for the series, but what it does provide is a conservative, polished handheld Mario Kart experience with a few new mechanics that add some spice to the series' well-established gameplay.
Aside from the usual additions (tracks, karts, and, characters) Mario Kart 7 introduces gliding and underwater segments. These new segments do a nice job of adding variety to the tracks without being so radical that they change the formula entirely. Also new to Mario Kart is the introduction of kart parts, which are unlocked by collecting coins. Like the gliding and underwater segments, these do little to change the overall formula of the game, but act as a nice aesthetic addition, allowing you to mix and match different parts to create your ideal combination.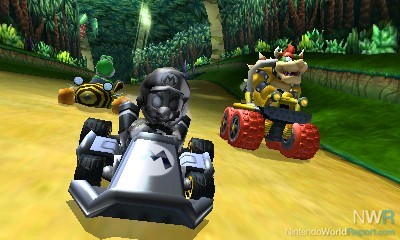 However, perhaps the biggest improvement in Mario Kart 7 is the online, which takes much of what was great about Mario Kart Wii's online and makes it better. One of the most noticeable differences between the Wii and 3DS game is the change in player count. Mario Kart 7 supports a more streamlined eight players, instead of the Wii's 12. And while this improvement is more than likely due to the hardware constraints of the 3DS, it helps combat the item abuse that was present in the Wii game. Additionally, the more annoying items of previous titles have also been taken out, or made less effective. Most notably, the blue shell now travels along the ground, affecting all racers ahead of the person using it, making it seem much less useless for players in eighth place. Also notable about Mario Kart 7's online,is the addition of communities, which allow players to create their own specific rules for races, in which they can race their friends or random players from around the world.
Mario Kart 7 is by no means the most innovative title of the year, but it is a polished experience that really doesn't need to change to be great.