The guys lay down a heavy New Biz related show with a dab of news before E3.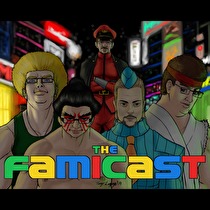 Subscribe via iTunes (Please rate and review, too!)
The Famicrew is back this month for the latest and greatest from Japan! This time with a show focusing mainly on New Business before Nintendo blows our socks off at E3 (?).
New Business has the guys talking about a variety of games per usual. Ty gives us an update on the latest comings and goings of Killer Instinct, and then teams up with Sairus to dish out some more impressions of Overwatch. Splatoon comparisons ensue. Sarius also picks up Pokémon Picross and talks about the acquiring the talent of walking while gaming on 3DS. Try not to cause any more accidents, Sai!
Danny shares his thoughts on a British developed baseball game for the SNES from twenty years ago. Can you guess what it is? James finishes things off with more thoughts on Super Meat Boy and Watch Dogs. Is he going to call it quits on these two? Maybe...
Finally, after a brief bit of news, JC comes back with a Mario Maker Minute and Super Splat Hour. The show is brought to a close with your feedback! If you want to drop us some questions, drop us an email at famicast@nintendoworldreport.com, tweet at us on Twitter @thefamicast or sound off in the comments below! Enjoy E3, and we'll be back to give you our thoughts!
This podcast was edited by Danny Bivens.
Music for this episode of The Famicast is used with permission from 8 Bit Weapon. You can purchase their music and shirts from their website 8bitweapon.com
Additional music for this episode of The Famicast is copyrighted to Nintendo, and is included under fair use protection.
The artwork for the show was designed by Tony Losoya, follow him on Twitter @Tony_Losoya