Tons of titles going on sale to celebrate the creation of Nintendo's digital store.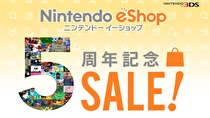 Celebrating the fifth year of the launch of the Nintendo 3DS eShop, Nintendo is having a sale on 100 select titles between June 7 (10 a.m.) to June 13 (11:59 p.m.) in Japan. Titles include full retail, downloadable and Virtual Console games with discounts up to 50 percent off. Additionally, users who have Nintendo Accounts can get 10 percent off on top of the previous discount. Titles highlighted were Super Smash Bros. for Nintendo 3DS, Fire Emblem Fates, Mario Kart 7, Animal Crossing: Happy Home Designer, Rhythm Heaven: The Best +, Dragon Quest VIII, Box Boy, Super Mario Land 2. Many other first and third party titles are also part of the upcoming sale.
Currently, this sale is known to be limited to Japan.