The guys are here to show you the clear connections between bloody slabs of meat, CGI scorpion kings, teddy bears and Mario Maker...True or false?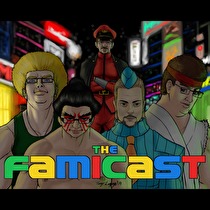 Subscribe via iTunes (Please rate and review, too!)
It's Live Famicast time! It's that special time once a month where you get to choose between just listening to the Famicrew talk about games and life in Japan, or watching them on video! It's so real it's almost like you're there with them, too! So lucky!
New Business is a bit of a smorgasbord this episode with everyone dabbling in a bit of everything. Sairus dips his toes in Splatoon and Megaman X3 while Danny cashes in some Platinum Points on the Culdcept Revolt demo (Japan only). James checks in with Mario Maker, Watch Dogs and Super Meat Boy while Ty polishes off DOOM and Catherine, and as always touches base with Killer Instinct.
You know it's a pretty slow news week when discussion of the recent announcement of Kuma Tomo (Teddy Together) getting a Western release is a highlight, but we still find some juicy tidbits to discuss. Datamining has revealed the Squid Sisters costumes waiting to be unlocked in Mario Maker, which leads Sairus to talk about his recent trip to Splaket 5, a Splatoon doujin* event in Tokyo where kids and squids could buy and sell fanmade Splatoon goods.
Meanwhile in charts, this week marks the sort of rare occasion when a Western produced game debuts at number one. Can you guess which one? On such an auspicious day, could this also finally be the week that the console charts actually change their long standing positions? Spoiler: No. No it isn't.
Finally, before checking out our faithful listeners' mail we have the triumphant return of Fake or Real, complete with guest contestant! Tune in for details on how you too can possibly enter this climactic battle of wits!
*Translator's note: doujin is a blanket term that covers "people with the same interests" and "self published art, comics, etc". There'll be a quiz on all the non-English words you learned in this week's episode.
This podcast was edited by Danny Bivens.
Music for this episode of The Famicast is used with permission from 8 Bit Weapon. You can purchase their music and shirts from their website 8bitweapon.com
Additional music for this episode of The Famicast is copyrighted to Nintendo, and is included under fair use protection.
The artwork for the show was designed by Tony Losoya, follow him on Twitter @Tony_Losoya