The recent NX megatons, Starfox Zero, a huge dose of Life in Japan, and a Satellaview game. Need more?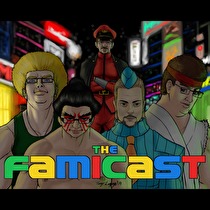 Subscribe via iTunes (Please rate and review, too!)
The Famicast is back to full strength again with an amazing live recorded episode! Before diving into New Business, the Famicrew have a special segment talking about Nintendo's surprisingly flat announcement of the NX, Zelda WiiU and their E3 plans, along with a look at some other notes from the Nintendo Investors Meetings.
New business kicks off with Sairus experiencing the woes of buying supplies for Nintendo Land while James succumbs to commercialism and joins the recent Spongebob Splatfest. Danny covers past and future with playthroughs of both of the oddball Sutte Haken and the brand new Starfox Zero. Ty chimes in with his usual segment on DOOM and Killer Instinct to the general bewilderment of all Famicast listeners.
There wasn't a whole lot of other news this week but there's still some healthy discussion on the new multi-region Friends of Nintendo Humble Bundle, yet another new Pokemon Center opening in Japan and the impending release of Kirby: Robobo Planet.
As usual we also take a peek at the sales charts for the week before checking the mailbag. There were some juicy questions this week ranging from integration to Japanese culture and our opinions on VR! It's good listening, so quit reading and get clicking on either the audio or video versions below!
This podcast was edited by Danny Bivens.
Music for this episode of The Famicast is used with permission from 8 Bit Weapon. You can purchase their music and shirts from their website 8bitweapon.com
Additional music for this episode of The Famicast is copyrighted to Nintendo, and is included under fair use protection.
The artwork for the show was designed by Tony Losoya, follow him on Twitter @Tony_Losoya