Detective Pikachu cross Bayonetta divided by Hyrule Warriors equals Wii U shortages in Japan?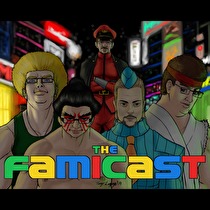 Subscribe via iTunes (Please rate and review, too!)
It's another episode of the Famicast where Wii bring U the most horrifying Nintendo puns and news from deep in Japan!
To start us off, James has a quick recap on what he's played this week, including a pretty in depth discussion about Bayonetta's recent arrival in Smash Bros. Danny has been working through Detective Pikachu, a game I'm sure those who don't speak Japanese are curious to hear about. Ty remains our anchor to the outside world and weighs in on the non-Nintendo stuff he's been playing and finally Sairus drags himself away from Hyrule Warriors long enough to record a podcast.
James' special Splatoon and Mario Maker segment returns due to popular (?) demand, and there's a wealth of stuff to talk about this week from new characters to the best Splatfest that ever was.
In current news the crew touch on new revelations for Pokemon and Pokken, discuss a world without future updates to Smash Bros. and talk about a pretty surprising turn as retailers run into Wii U shortages in Japan.
As usual we also talk about the notable new releases and pick apart this week's sales figures for Japan before going through all of our listener feedback and comments. Somehow we also find time to squeeze in a segment of Ty's ever popular Fake or Real!
It's a packed show, so strap in and… do whatever you usually do while listening to podcasts I guess.
This podcast was edited by Danny Bivens.
Music for this episode of The Famicast is used with permission from 8 Bit Weapon. You can purchase their music and shirts from their website 8bitweapon.com
Additional music for this episode of The Famicast is copyrighted to Nintendo, and is included under fair use protection.
The artwork for the show was designed by Tony Losoya, follow him on Twitter @Tony_Losoya