W the fun with the latest live episode of NWR's podcast from Japan.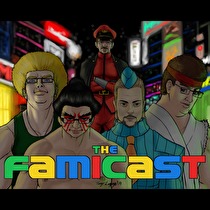 Subscribe via iTunes (Please rate and review, too!)
*NOTE* This podcast was recorded roughly 24 hours before the latest Pokémon Direct. Tune in to the next episode for our thoughts. And as always, we thank you for your continued please understanding.
There might be a lull in Nintendo related news (with the exception of the aforementioned Direct), but the Famicrew are back to bring you the latest and greatest from Japan!
For New Business, Ty and Sairus break down Street Fighter V. Sure, the game is basically about five months away from being "complete," but the two fighting game experts break down the good, the bad and the ugly. Ty also talks about XCOM..no, not the new one…
James, Danny and Sai also talk about some Nintendo games that they've been playing lately including the likes of Great Detective Pikachu, Bravely Second and Captain Toad. If you like Star Wars, Danny even sneaks a little bit of Battlefront talk into his New Business.
Even though there isn't much news to cover, the guys bring a few tidbits of information as well as everyone's favorite - the charts! After hearing the latest tips, tricks and news for Super Mario Maker and Splatoon in a JC Presents production, the guys tackle your questions in a quick fire, thunder round mini Life in Japan. From car swapping to the black market, prepare for the best (worst?)!
If you have any questions, comments or criticisms, contact on Twitter (@thefamicast), email us (famicast@nintendoworldreport.com) sound off in the comments below or on YouTube. Grab your W cheeseburger (or PBJ) and Asahi Super Dry and let's get this party started! Famicast a go-go, baby!
This podcast was edited by Danny Bivens.
Music for this episode of The Famicast is used with permission from 8 Bit Weapon. You can purchase their music and shirts from their website 8bitweapon.com
Additional music for this episode of The Famicast is copyrighted to Nintendo, and is included under fair use protection.
The artwork for the show was designed by Tony Losoya, follow him on Twitter @Tony_Losoya