Pokémenz, Amiibo challenges, the new Box Boy, Hyrule Warriors and a dash of NX are sprinkled into the latest live outing from the Famicrew.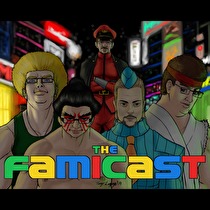 Subscribe via iTunes (Please rate and review, too!)
Your four favorite gaijin are back to talk about all things life, love and Nintendo games in Japan in a live episode of the Famicast!
As usual everyone gives a quick rundown of what's new with them and what they've been playing recently. Both Sairus and Danny ended up on different versions of Hyrule Warriors and James gives his very mixed feelings about the recent Boxboy 2 and tries out a Call of Duty to see what all the fuss is about. Ty… well... Ty plays Scrabble. For achievements.
As usual James also fills us in on all the new updates and goings on in Splatoon and Mario Maker. This episode marks the end of Splatoon's free weapons and stage updates, so it's good listening!
For recent news the crew gushes about Mini Mario and Friends: Amiibo Challenge and its spectacular amiibo functionality. Has the amiibo Killer App finally arrived? There's also a wealth of Pokémon news to talk about, and some NX rumors the guys promised they wouldn't talk about but did anyway.
Finally, there's some very quick discussion about this week's sales before taking some reader feedback on topics ranging from Steam's ease of use in Japan to Fire Emblem Fates' controversial localization changes.
As this episode was recorded live there is a video archive also available! The final segment on Fire Emblem in particular might be worth watching in addition to listening to it!
This podcast was edited by Danny Bivens.
Music for this episode of The Famicast is used with permission from 8 Bit Weapon. You can purchase their music and shirts from their website 8bitweapon.com
Additional music for this episode of The Famicast is copyrighted to Nintendo, and is included under fair use protection.
The artwork for the show was designed by Tony Losoya, follow him on Twitter @Tony_Losoya