Fifty-two! Like a deck of cards! But why are there four jokers in this deck??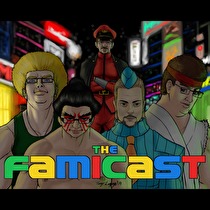 Subscribe via iTunes (Please rate and review, too!)
This month, the Famicast Voltron is assembled from James, Danny, Ty, and Sairus for episode #52!
In New Business, Danny talks Majora's Mask 3D. James discusses buggy Batman and happy Hakoboi. Ty plays invades your pets' privacy in WASH_DOGS. Sairus plays Zelda: Link Between Worlds in a bathtub filled wtih Amiibos.
In the magical fantasy land of Japan, we explore the possibilities of the mythical Golden Amiibos, marvel at the Famicom cartridge as an artistic medium, and click-to-buy Mario Kart 8 DLC. Then, we put a Dragon Quest V concert in our ears, and put a Yokai Watch event in our eyes.
We use the whole box of Crayolas to chart last week's game sales, and then we burn down the mail room. Only three very weird letters survived the blaze. INSIDE: Japanese Duke Nukem and wife-swapping.
This podcast was edited by James Charlton.
Music for this episode of The Famicast is used with permission from 8 Bit Weapon. You can purchase their music and shirts from their website 8bitweapon.com
Additional music for this episode of The Famicast is copyrighted to Nintendo, and is included under fair use protection.
The artwork for the show was designed by Tony Losoya, follow him on Twitter @Tony_Losoya