Several figures are getting the green light for another go on the production line.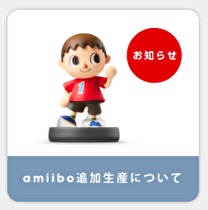 Nintendo is committed to producing more of specific scarce Amiibo for the Japanese market. The Animal Crossing Villager, Little Mac and Captain Falcon Amiibo are currently in "additional production" and are set to hit Japanese store shelves some time this May. The assembly process takes time, including some aspects that have workers assembling parts of the Amiibo by hand. As of right now, this decision is only regarding the Japanese market.
In the most recent investor briefing, it was revealed that Japan has only received about 11% of the worldwide Amiibo shipments, while North America and Europe receive the majority. As of this time, more than 5.7 million Amiibo have been shipped worldwide.