Would any other podcast discuss Mario 3D Land and public bathhouses in the same episode? I think not.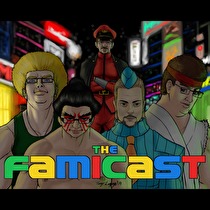 Subscribe via iTunes (Please rate and review, too!)
Danny and JC return to the studio to give you the latest Famicast! In this episode, the guys bring a new feature, Taste of Japan, in an attempt to give you a better idea about not only the gaming scene in Japan, but life in Japan in general.
Super Mario 3D Land is also a point of discussion as JC and Danny give impressions of the Japanese retail version of the game and how the Super Mario series is viewed in Japan. The guys also share the latest news in Japan from Dragon Quest X to online Wii Virtual Console titles.
The winners from last episode's contest are also announced and their letters are read on the air. Tune in to see if you were one of the lucky ones to get your email read on the show and have prizes coming your way! And don't forget to check out the 2nd Annual NWR Live Podcast Telethon for Child's Play, which starts November 19 at 12:00 pm (noon) Eastern Time and can potentially keep going until 8 pm. If a total of $2000 is received, your very own Famicast crew will be on the show live! Donate that money so Danny and JC have to hit the airwaves early in the morning (7:00 am, 11/20) live from Japan!
As always if you have a question for the Japan crew, send us an email to famicast@nintendoworldreport.com or drop by our always informative forum thread.
This podcast was edited by Danny Bivens.

Music for this episode of The Famicast is used with permission from 8 Bit Weapon. You can purchase their music and shirts from their website 8bitweapon.com

Additional music for this episode of The Famicast is copyrighted to Nintendo, and is included under fair use protection.