It's a slow week for the eShop in Japan, but there is light at the end of the tunnel.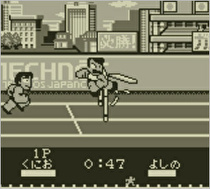 Not only was Super Mario 3D Land released in Japan late last week, they are still busy at work delivering digital goodies to Nintendo fans via the eShop on the Nintendo 3DS and even on the Wii's Virtual Console (Super Street Fighter II online, anyone?). However, this week was a relatively slow week for the eShop in the Land of the Rising Sun. Here's what was released:
Virtual Console
Bikkuri Nekketsu Shin Kiroku! Dokodemo Kin Medal (Known as Crash 'n the Boys: Street Challenge and only released on the NES) - 400 yen
Video Content
Video content this week was few and far between. The Legend of Zelda: Skyward Sword seems to be getting the most attention, as for the past month Nintendo has been highlighting new areas throughout the game in series of videos that are streaming directly from the eShop. Not only that, but three new thirty-second long commercials have been uploaded to the eShop.
Software Impressions
As much as I like Kunio-kun, I was not overly excited about plopping down my cold hard cash for another portable experience with him in this week's sole release. As I mentioned above, this entry in the Kunio-kun series never made it to the Game Boy outside of Japan. For those unfamiliar with this game, it features various competitive events such as 400-meter hurdle jumping, swimming and fighting. You compete against other high schools and try to work your way through them to claim your spot as a champion of this tournament.
Although I didn't purchase anything this week, next week Nintendo is set to release their upcoming 3DS Downloadable title, Hirai: Sakura Samurai and Capcom is also bringing Bionic Commando to the 3DS Virtual Console. Expect a full hands with at least one or both titles next week. Also be sure to keep your eyes peeled for a new episode of The Famicast, which is coming soon!