Dragon Quest fans in Japan are about to be awakened.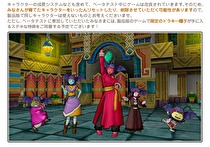 Square Enix opened a site for the free beta test of the online RPG Dragon Quest X: Mezameshi Itsutsu no Shuzoku (Awakening of the Five Tribes) today. The application for beta testers will be received online from the middle of November. The exact date and other details of the test have yet to be announced.
Requirements of testers are as follows:
Those who live in Japan.
Those who will participate in the test and actively report troubles.
Those who have a Wii connected to the Internet.
Those who have a Square Enix account.
Beta testers will receive a test kit consisting of a game disk and a manual with or without a 16 GB (or more) USB memory storage unit. The selection of testers will not be on first-come first-served basis but based on what applicants have entered in their application. The number of testers will increase periodically, so those who have not been selected will also have further chances, which means they do not have to apply again.

The characters of the testers are not planned to be transferable to the retail version, and testers will not be able to progress in story. However, they will get a special cap featuring a Drackey (bat like monster) in the final version. The beta version will support, in addition to the combination of Wii Remote and Nunchuk, a Classic Controller (Pro) and USB keyboards.