The world of 2D platformers has changed for the better since 2006, making New Super Mario Bros. 2's job harder.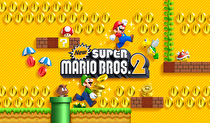 I'm in the early stages of New Super Mario Bros. 2 (review coming later this week) and one thought is coming to mind throughout it: "Wow, this feels awfully similar to New Super Mario Bros. on DS."
As I play it, it makes more sense to know why it's called NSMB 2 and not NSMB 3DS. This isn't a sequel to the Wii version; this is a sequel to the 2006 DS release. That's not a bad thing, mind you, as the original game was a competent Mario game, and after completing roughly half the game's content, NSMB 2 seems much better. The first game is not something I'd call a classic, but I recall enjoying it in 2006. The game's MetaCritic rating stands at an impressive 89. Nintendo World Report's Michael Cole gave the game a 9.0 when it released. Most people dug this game a whole lot in 2006.
But look at the competition in 2006: Yoshi's Island DS, Kirby Squeak Squad, Mega Man Powered Up (PSP). I might be missing one or two, but in that time, 2D platformers were mostly doomed to portables, and in the three I mentioned, I only think one of them (Mega Man) is a good game.
Here's what happened since then: NSMB was stupidly successful. New Super Mario Bros. Wii brought four-player mayhem to the masses in 2009, followed up by Kirby's Epic Yarn, Donkey Kong Country Returns, and Kirby's Return to Dream Land in the ensuing years. I'd be remiss if I didn't mention Wario Land: Shake It, Klonoa, and A Boy and His Blob, which all flew in under the radar before NSMB Wii.
Ubisoft released Rayman Origins in 2011, and its follow-up, Rayman Legends, almost stole the show from the next Mario game, New Super Mario Bros. U, at E3 2012. I haven't even touched on the cadre of downloadable 3DS platformers ranging from Mutant Mudds to VVVVVV. In the interest of time, I'll just skip over the multitudes of quality 2D platformers littering Steam, XBLA, and PSN.
Simply put, the New Super Mario Bros. series helped kick off a 2D platformer renaissance. The genre hasn't seen this much love since the industry went to 3D in the '90s. And that's likely why everyone is so critical of NSMB 2. It's why fans are somewhat ambivalent. We're not starving for 2D platformers. We're not starving for Mario. We're fatted platformer-loving calves.
That doesn't make NSMB 2 any better or worse. My early opinion is that it is a sequel to the original, improving on certain aspects and adding new and more interesting content. It won't set the world ablaze (though it might set sales charts ablaze), and it won't have the impact most 2D Marios do.
At the end of the day, though, I'm just excited to see 2D platformers become a big-time genre again, and comparing the 2006 landscape to the 2012 landscape highlights what a great time it is to be a lover of old-school platformers.