Wii
Kirby's Epic Yarn
Visit the Wii U game profile for more NWR coverage.
Go Behind the Seams with Kirby!
Kirby's first console platform game since the Nintendo 64™ days introduces an amazing new look based on animated yarn and a world of cloth and textiles. The creative approach is woven directly into the game play and allows the ever-morphing Kirby™ to take on a variety of new forms. A simultaneous two player mode will have players of all skill levels enjoying this one-of-a-kind experience.
FEATURES:
The look of the world is stunning, but it's also interactive. Pulling on stray threads might reveal hidden areas. When Kirby literally goes behind the scenes, the virtual fabric warps and bends to show his location.


Thanks to his versatile yarn composition, Kirby can take on a variety of forms both in his common actions and when he transforms into powerful vehicles. When Kirby dashes, he zips around as a car. In water, he turns into a submarine. At times he can even transform into a massive robotic tank, a UFO and other vehicles.


Two players can play through the entire game together.


Beads and collectible items are scattered throughout the environments for players to find.
TALK NINTENDO: Episode 9 - Wii are the Champion
We celebrate the Wii's 10 year anniversary!...
RADIO FREE NINTENDO: Episode 376: Terrible Parenting
This week we look at games built on terrible ideas, license games that don't follow their license, and Layton. After the break we discuss topics ranging from Nintendo's marketing strategy for major events to Mario Street Basketball....
by James Jones, Kimberly Keller, Jon Lindemann, and Guillaume Veillette - March 30, 2014

CONNECTIVITY: Episode 122: Whack Attack
Games we've been playing, listener mail, and an in-depth look at Donkey Kong Country: Tropical Freeze!...
by Alex Culafi, Andy Goergen, Daan Koopman, Zachary Miller, Neal Ronaghan, and Scott Thompson - February 22, 2014

CONNECTIVITY: Episode 64: King Dedede's Empire Strikes Back
We celebrate Kirby Week with a double dose of segments about the pink puffball....
by Zack Kaplan, Josh Max, Zachary Miller, Mike Sklens, and Scott Thompson - December 15, 2012

THE FAMICAST: Episode 16: TGS 2012 SPECTACULAR
Five guys, four Wii U games, three hours long, two time zones, one epic Famicast....
by Danny Bivens, James Charlton, Daan Koopman, Ty Shughart, and Minoru Yamaizumi - September 28, 2012

RADIO FREE NINTENDO: Episode 223: This Story is Happy End
Nathan and Karl join Greg and James to fill out their Wii Report Cards....
by Karl Castaneda, James Jones, Greg Leahy, and Nathan Mustafa - December 19, 2010

RADIO FREE NINTENDO: Episode 219: The Happiest Podcast on Earth
TYP joins us for Epic Mickey and Epic Listener Mail....
by Michael Cole, James Jones, Greg Leahy, and Jon Lindemann - November 14, 2010

RADIO FREE NINTENDO: Episode 218: Killed in the Restroom, Again
Nathan Mustafa from NWR Newscast drops in to help us remember Goldeneye (N64)....
by Greg Leahy, Jon Lindemann, Jonathan Metts, and Nathan Mustafa - November 7, 2010

RADIO FREE NINTENDO: Episode 216: Made from Real Explosions
Special guest Nathan Fouts tells us about designing (and selling) 2D action games....
by James Jones, Greg Leahy, and Jonathan Metts - October 24, 2010

Screens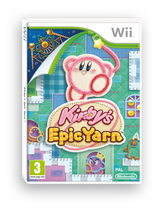 Worldwide Releases
Kirby's Epic Yarn
Release
Oct 17, 2010
Publisher
Nintendo
Rating
Everyone
Keito no Kirby
Release
Oct 14, 2010
Publisher
Nintendo
Rating
All Ages
Kirby's Epic Yarn
Release
Feb 25, 2011
Publisher
Nintendo
Rating
3+
Kirby's Epic Yarn
Release
Feb 24, 2011
Publisher
Nintendo
Rating
General
Kirby's Epic Yarn
Release
Sep 01, 2011
Publisher
Nintendo