A great game is still a great game, even if it's a two-year-old port.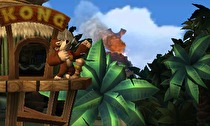 Every so often, I have a weird sensation where my feelings are the opposite of a lot of people I know and talk to. The last time it happened with games that I can think of was The Legend of Zelda: Ocarina of Time 3D. Before the 3DS release, I hadn't played the game in a decade. I was stoked for the re-release, especially since it was on a portable and featured graphical enhancements. I'm a sucker for playing games I love with a new sheen or on a new style of platform.
That makes it weird that I'm honestly really excited for Donkey Kong Country Returns 3D. I played the original, got more than halfway through it, but something just didn't totally click for me. As dumb as it sounds, the waggle did hurt the experience for me. And it came out at the time when the Wii stopped being the center of my entertainment experience (which was still four years later than when it stopped being the center for most people). It's because of feeling that sensation that I understand why Nintendo might want to re-release that game, which still sold a whole lot, to a new audience on an active platform. Despite owning the game, I am a part of that audience. I played a few hours of it, but I didn't complete. Donkey Kong Country Returns didn't envelop me like a lot of other games have.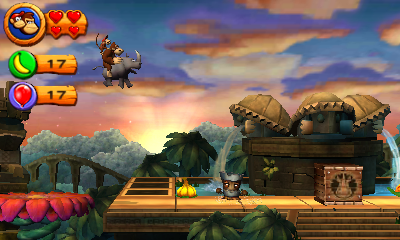 From all the praise it garnered (especially from our own Andy Goergen), I'm surprised it didn't click with me. At this point, playing the Wii version would involve prying it from my 5-year-old niece's fingers, which is something I have no intention of doing (she also totally bogarted my copy of Scribblenauts Unlimited, and if her father has any say in it, might be playing my copies of Mario U and Sonic Racing Transformed soon). That means I'll wait patiently for May 24 when I can play Donkey Kong Country Returns 3D on the 3DS.
Plus, it is being developed by Monster Games, which feels like a terrible waste of talent, and those guys made one of the best Wii games no one played in Excitebots and came out strong at the launch of the Wii (Excite Truck) and 3DS (Pilotwings Resort). It might just be a port, but it is by a team that has proved their worth to me three times. And seriously, have you guys seen how hot this game looks in 3D? It's look, whoa; The depth, man.