Going bananas will now be a little easier, if you want it to be.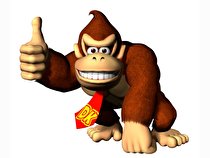 New details on Donkey Kong Country Returns 3D have been revealed: an optional easy mode, and wireless local multiplayer.
Nintendo's official UK site confirms that local multiplayer, an option in the original Wii version, will be present. Also announced is the presence of an easy mode that provides three hearts of health (an increase over the two available normally), as well as new items that can save players from a fall, allow the mine carts and Rocket Barrels to take a second hit of damage, and the use of a DK Barrel at any time. DK Barrels provide the player with Diddy when traveling alone, or restore Donkey Kong's health if Diddy is already in tow.
Donkey Kong Country Returns 3D stomps its way into stores and the 3DS eShop May 24.