We translate a Spanish interview in which the Metroid creator discusses the past, present, and future of Metroid.
[Editor's Note: In our effort to provide you as much worldwide coverage of Nintendo as we possibly can, NWR is going to be making an effort to put our translation skills to use by finding interesting Spanish and Japanese-language articles and translating them for your enjoyment. Our own Pedro Hernandez translated this interview from its native Spanish. Many thanks to him, and of course all credit for the original interview goes to Revogamers.net -JL]
Revogamers: You said that Samus was like a daughter to you. How was the heroine born, and how did you come up with such a revolutionary game concept in the 80's?

Yoshio Sakamoto: At the beginning of development Samus didn't have a defined gender. During development, in one of the meetings with the staff someone said that it would be a nice surprise if at the end of the game the player found out that Samus was in fact a woman. We thought it was a good idea so we implemented it. In a way, I had a "daughter" by coincidence.
Regarding Metroid's gameplay system, these are things people don't know about. It wasn't by chance that we came up with the system like that; the case was that when we started development on Metroid we were asked to create a game with gameplay unlike anything else seen before, something completely new in the world of videogames. It was also a decade in which very few games were released, so things were very different back then.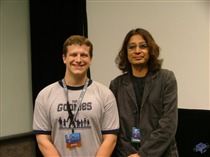 Jonny Metts and Sakamoto at E3 2004
We created an interesting game concept, and before we even knew how the final product would turn out a release date was decided. A time came in which the release date was quickly approaching and the game was unplayable. The original Metroid team was composed of people that had very little experience with game development, and I was one of the few members of the team with experience thanks to working on games like Balloon Fight. We then called for an emergency meeting and we debated how we could solve our problems without adding more to the game; we looked for a way to make it playable.
The decisions made during that emergency meeting were what made Metroid the game it is today, using a labyrinth-like system, upgrades, secret doors, and abilities that would open up new areas. This made the game playable. If I go into further details regarding the game's development, we could be talking all day long!
RG: No, we wouldn't mind. Talking about Other M, your dream was to tell Samus' story using current means. Do you believe that you have achieved that? Do you believe you have surpassed Super Metroid with this project?
YS: With this new entry I want to explain details about Samus' personality, and I feel very proud and satisfied with what I have obtained. It's what I wanted to do, and there it is. Regarding the Super NES entry, it is a very complicated question. I believe that they are completely different games, and I don't believe that one is superior to the other. I think they are both magnificent titles...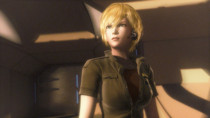 A cutscene from Other M
RG: Will all future Metroid titles follow the concepts and ideas seen in Other M?
YS: It's too soon to tell...it all depends on how Other M performs with the gaming audience. We are not the ones that tell people what trends to follow, instead it's them that tell us what gaming trends we must implement in our games. If people really enjoy the game and people really want it, then this shall be the line that we will follow.
RG: Would you like to return to the classic 2D style, even if it's for downloadable game systems?
YS: There are no plans for a new 2D Metroid nor any other similar project. But if the opportunity arises or a new idea surfaces it will be very fun, and I would love to do something along those lines.
RG: Your team, R&D1, has done work mostly for portables. What ideas do you have for the 3DS? Will your first game be more like Wario or more like Metroid?
YS: It's true that our work has been mostly on handhelds, but we aren't necessarily exclusive to that area. In fact, we have worked on Wii games and with new investigations we have been doing different things. About the 3DS, I don't have anything in mind for it; I have been too involved in the development of Metroid: Other M and I don't have enough detailed information regarding the 3DS. After such a long project, it is time for me to think about what I am going to do, so nothing has been decided. I can't give exact details about future endeavors.
RG: Probably one of the most original ideas in Metroid: Other M, as well as one of the freshest we have seen on the Wii, is the fluid change between first and third-person with just the flick of the Wii Remote. Are you satisfied with the results of the first-person gameplay?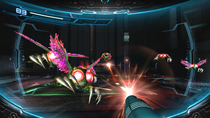 Other M's first-person view
YS: Yes, I am very proud of this system. From the very beginning, I wanted to add something different, add more to the game using Samus's point of view from inside her helmet. We worked on this with Team Ninja since the beginning, and personally I have been very involved with this element of gameplay. I believe it couldn't have been better; it's just what we wanted to do.
RG: There are people that think it would be good to move around in that perspective. What do you think?
YS: Yes, I have read how people wonder why we didn't include the ability to move in first-person. It is still early to know if we were correct or not, because people have yet to play it, but these impressions will determine the final outcome. We didn't want to put in first-person movement because when you change to that perspective it is more complicated to recognize what position you are in; it is more difficult to place yourself and I didn't want to overcomplicate the game. I wanted to maintain the essence of the two dimensions even though the visual part would be more spectacular. That's why we didn't include movement in first-person.
RG: We believe that with Other M, the Metroid franchise has been rebooted. Is it possible that, save for Do It Yourself, WarioWare will receive a similar reboot? What does WarioWare need in order to create a brand new game?
YS: It is one of our biggest franchises. Every time a new console is released a new WarioWare title that uses the system's capabilities to its maximum potential is released. But it is true that WarioWare is a videogame series with a strong personality and it is very complicated to make changes or innovations while maintaining that personality. One of the things we must do now is to think about the inevitable WarioWare for the 3DS, and figure out how to keep it fresh while keeping its presence intact. The director of WarioWare is always coming up with new ideas, and maybe Do It Yourself, the entry in which you create your own micro-games, has been an attempt to look for new ideas from within the series.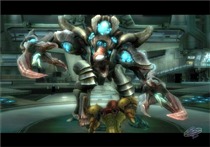 Metroid Prime 3: Corruption
RG: For a few years, Samus Aran has been "living" in the United States [In terms of her game's development - Ed.]. Now that the series has returned to Japan, how has it changed? What is the difference between Retro Studios' Samus and Other M's Samus?
YS: The series has been abroad for a while, and has now returned to its roots. In Japan, the game comes out tomorrow; I think that many followers of the Metroid saga are eagerly anticipating it and will be satisfied with the series's return to Japan. Regarding "the Samuses", it is a complicated question. Nearly everybody has asked about the Prime series, which are part of the Metroid timeline, but are completely different. It has nothing to do with it, but it could be a way to represent other facets of Samus's personality. I don't want to create divisions between the Samus from the east and the Samus from the west; to me, the real Samus is the one you will meet in Metroid: Other M.
RG: Metroid: Other M continues the story of Super Metroid. Will the next Metroid story take place after Metroid Fusion?
YS: Yes, that could be. (laughs)