The long awaited Xenoblade Chronicles X episode is finally here.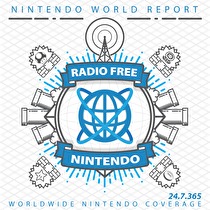 Subscribe via iTunes (Please rate and review, too!)
After months of promises, Radio Free Nintendo finally is delivering the Xenoblade Chronicles X spoilercast. If the previous sentence doesn't give enough warning, there are plenty of spoilers for Monolith Soft's world-exploration JRPG in this episode; so you'll probably want to skip this one if you haven't finished the game. Conveniently, if you still need a Radio Free Nintendo fix, we already released an episode covering last week's Nintendo Direct - we moved it up just so you would still have something to listen to. Surprising even to us, we care.
We talk mechanics, story, world, and whatever else we can think of in this massive show. We ponder hot topics like "at what point is xenophobia justified," and "how many arms manufacturers is the bare minimum for space exploration." Loose threads are tied, Skells are perfected, Hexad Particans are polished and giant space gorillas vaporized.
Thanks to everyone who sent in emails for this episode. We had more participation than we had time to use, which is an awesome problem to have.
Next week we're returning to our regular format, so send your questions or comments to our mailbag.
Also, stay tuned to the RFN feed for a special interview of frequent guest Michael "TYP" Cole, by former RFN host Dr. Jonathan Metts, later this week.
This episode was edited by Guillaume Veillette. The "Men of Leisure" theme song was produced exclusively for Radio Free Nintendo by Perry Burkum. Hear more at Bluffs Custom Music.
This episode's ending music is 46-ri9 (Part II) aka "Sylvalum night theme," from Xenoblade Chronicles X. It was composed by Hiroyuki Sawano. All rights reserved by Nintendo.