TYP drops in for a five-dude show!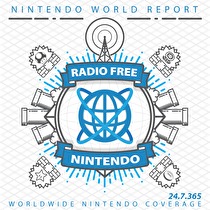 Subscribe via iTunes (Please rate and review, too!)
It's rare that we get to record with someone next to us, but this week marked a special occasion, as Michael "TYP" Cole was traveling for work and joined Jonny at the microphone. He's got great New Business too, including Mario Golf for 3DS (the whole game, not just the demo!) and Mega Man Xtreme 2 from ye olde Game Boy Color. James takes a tour through the eShop and has a few ideas to make it work better (for both Nintendo and us). Jon has been trying Super Mario Land 2 for the first time ever and realizes that it's totally odd. Gui tries the trial for Wii Sports Club, now that all five sections are available. He also follows last week's Mr. Driller 2 debacle with the far superior (and cheaper!) Mr. Driller game for DSiWare/3DS. Jonny wraps up the segment with a return to Wario Land 3, plus first impressions of Rogue Legacy on PS Vita... and the latter definitely holds a lot of appeal for Nintendo fans!
Listener Mail is abbreviated this week (we started recording a bit late), but there's still time for a pair of letters about Mario franchise continuity (seriously... okay, maybe not so seriously) and a look at how Nintendo's controller designs have impacted their platforms, game ideas, and third-party support. We'd love to hear from you as well -- so please do email RFN today! Be sure to also check out TYP's wonderful podcast about video game music, a favorite of us all, Radio Trivia: Podcast Edition, right here on Nintendo World Report.
This podcast was edited by Guillaume Veillette.
Music for this episode of Radio Free Nintendo is used with permission from Jason Ricci & New Blood. You can purchase their newest album, Done with the Devil, directly from the record label, Amazon (CD) (MP3), or iTunes, or call your local record store and ask for it!
Additional music for this episode of Radio Free Nintendo is copyrighted to Nintendo and is included under fair use protection.