Guillaume is back with tons of games from PAX East and otherwise! We also revisit Mario 3 and even preview our grand plans for RFN 400 this fall.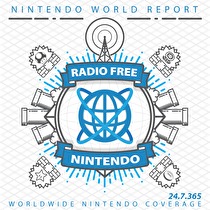 Subscribe via iTunes (Please rate and review, too!)
It's been two weeks without our beloved Guillaume, and now he's back from Boston to edit the show, talk about games, and edit the show. He kicks off New Business with final thoughts on Earthbound, a rare mention of Mario Kart Arcade Grand Prix DX (it sucks!), and long overdue praise for Kirby Air Ride. The latter pair also brings in the group for some comparisons to what we expect from Mario Kart 8. Jon is up next, having played a game for the first time in a while (poor guy), and it's a doozie -- Super Mario Bros. 3! The game holds many surprises and delights for those of us who haven't played it in a while, and it makes us nostalgic for the days when a 2D Mario game could be so exciting and crammed full of new ideas. Jonny follows up with another old 2D game, Adventure Island II on the 3DS Virtual Console, and he finds it a worthwhile experience despite some annoyances. James closes the segment with his thoughts on the Mario Golf: World Tour (3DS) demo and recent DLC announcement, plus the oddball news of a new Ace Attorney game set in a very particular historical period of Japan. It's one of those times we were very glad to have James around to explain things!
After the break and return of Now Playing (sorry), we get a nice report from Gui on PAX East 2014 and what it was like being there without the full RFN crew to do a panel. Note that you can hear a lot more about the games he played there, as well as much more from the NWR staff who could attend this year, on a gigantic recent episode of Connectivity. The last feature topic of the week is a special preview of our plans/hopes/dreams for Episode 400 of Radio Free Nintendo. It's all very much in flux, and in fact much of this was new to most of the crew, so you'll hear their first reactions and some initial planning discussion for how we might make this milestone our biggest and most ambitious show yet. We very much want to know what listeners think of these ideas, because you're going to be heavily involved no matter what we do! Please send feedback and submit any additional suggestions via email, in the Talkback area below, at the stellar NeoGAF thread, or via the social media platform of your choice.
We are in the final stages of preparation for RetroActive, and it's definitely happening on the next episode. That leaves you just a few days to play Goldeneye (Wii) online with us and fellow listeners before we record the feature -- and the whole online mode will shut down soon after that! For the best experience, it's important that you post your Friend Code in the official forum thread and register others found there. It also helps a lot to be playing at the same time as everyone else, so keep an eye on RFN's social media (Facebook and Twitter) as well as Jonny's online meet-up/instructions blog for the next one... evenings this Monday through Wednesday (U.S. time) are a good bet!
This podcast was edited by Guillaume Veillette.
Music for this episode of Radio Free Nintendo is used with permission from Jason Ricci & New Blood. You can purchase their newest album, Done with the Devil, directly from the record label, Amazon (CD) (MP3), or iTunes, or call your local record store and ask for it!
Additional music for this episode of Radio Free Nintendo is copyrighted to Nintendo and is included under fair use protection.