With everyone back in action, it's time for a classic episode full of hot games and in-depth Nintendo discussions.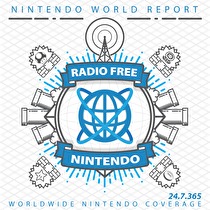 Subscribe via iTunes (Please rate and review, too!)
UPDATE: AAC version is fixed
This week's show brings Jonny back to the hosting chair, and it's notable for showcasing three different Wii U games in New Business, not to mention some spectacular email-derived conversations in the back half.
Gui cranks up New Business with his impressions of eShop oddity Spin the Bottle: Bumpie's Party. You know, that Wii U game played without a TV. Not surprisingly, it sounds like game best enjoyed among unsober friends. Jonny follows with an update on Nintendo's system transfer/restoration policy, plus very early thoughts on Wind Waker HD. Jon gets around to trying Monster Hunter 3 Ultimate on Wii U, and his experiences with the Wii and 3DS versions provide a useful perspective. James is last up with the troublesome early hours of Level 5's gorgeous Ni No Kuni. Listen as Jonny frantically reassures him that the game gets better!
Listener Mail is back with a full slate this week, and your questions pay off in exactly the way we always hope for. One gamer wonders if he has bad taste, but his specific complaints about 3D Mario games lead us into a detailed break-down of what that series could do better. Another person asks just what we are looking for as a franchise evolves through multiple games, and we take that one through Zelda and many other examples in Nintendo's history. Finally, a multiplayer devotee asks what to anticipate from Nintendo in the online realm... and we manage to sound a little optimistic!
We'll probably mix it up next week, but your questions and ideas are always, always appreciated. Some listeners have started to offer ideas for the next Retroactive, and we're happy to take those as well. Thanks so much for listening, and please do let us know what you thought of the episode in our comments section below (and/or at NeoGAF)!
This podcast was edited by James Jones and Jonathan Metts.
Music for this episode of Radio Free Nintendo is used with permission from Jason Ricci & New Blood. You can purchase their newest album, Done with the Devil, directly from the record label, Amazon (CD) (MP3), or iTunes, or call your local record store and ask for it!
Additional music for this episode of Radio Free Nintendo is copyrighted to Nintendo and is included under fair use protection.