We just can't seem to quit you.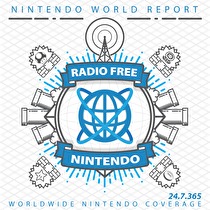 Subscribe via iTunes (Please rate and review, too!)
It's time for another one of those special episodes, as we celebrate six years and 300 numbered entries (plus many more one-offs and live events) of Radio Free Nintendo. This year, we decided to mark the occasion by doing what we do best -- talking about Nintendo! A lot. Probably way too much. This episode is all about Wii. In fact, we probably set a world record for the longest any group of friends has talked about Wii in a semi-serious manner.
This incredibly long episode is broken into a few segments for easier digestion. The first couple feature your friendly neighborhood RFN crew --Jon, James, Gui, and Jonny-- covering the Wii from its debut as Revolution at E3 2005, right up to the present day. It's a lot like the DS feature we did for #200, except even more ridiculous and long-winded. Later, we go through the whole saga again from the start, but this time with a series of special guests discussing the beginning, middle, and end of the Wii story in a small group format. You'll hear insider tales and fond personal memories from RFN favorites such as Billy Berghammer, Craig Harris, Michael "TYP" Cole, Karl Castaneda, co-founder Mike Sklens and, of course, our escaped editing slave, Greg Leahy. If you make it through this entire, monstrous podcast and still want more Wii coverage... try the previous 299 episodes! They're pretty good. Except for 103.
We'll get back to normal next week with Listener Mail, so send in yours today! RetroActive is also coming very soon, so hit up that forum thread if you're playing Wario Land 4. And finally, thanks so much to everyone who listens, corresponds, comes to our live panels, promotes the telethon, viral markets on GAF, etc. We love y'all.
This podcast was edited by Guillaume Veillette, James Jones and Jonathan Metts.
Music for this episode of Radio Free Nintendo is used with permission from Jason Ricci & New Blood. You can purchase their newest album, Done with the Devil, directly from the record label, Amazon (CD) (MP3), or iTunes, or call your local record store and ask for it!
Additional music for this episode of Radio Free Nintendo is copyrighted to Nintendo and is included under fair use protection.