Billy and TYP drop by to open up a big festive sack of your Listener Mail.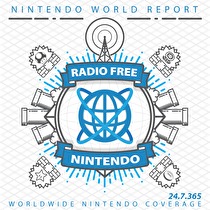 Subscribe via iTunes (Please rate and review, too!)
With Jonny and Lindy both sadly unable to make it for recording just before Christmas, James and Greg held down the RFN fort this week, with Mr. Jones serving as host for the first time since the infamous Episode 103 that bears his name. But before you go reaching for the audio equivalent of a Hazmat suit, fear not, for the results were not nearly so nuclear in this case! This minor victory for the concept of good taste can be attributed at least in part to our guests filling in for the two Jons—Radio Trivia host Michael "TYP" Cole, and NWR founder Billy "Take me to your GameCubes" Berghammer—being rather less unhinged and unsavory than the pirate duo of Stan and Karl.
The show begins with Billy and TYP following up last week's show by briefly covering their favorite games of 2011, before we reach deep into our Santa-like sack of Listener Mail that's been filling up rapidly ahead of the end of the year. Your questions cover a wide range of topics, including the behavioural impact of demos, what a game's director actually does during development, the seemingly inevitable prospect of remakes on Wii U, and the possibility that Nintendo has been permanently humbled by some of its 2011 setbacks. All this, plus the truth behind the "Sarah Miller" enigma is revealed!
This podcast was edited by Greg Leahy.
Music for this episode of Radio Free Nintendo is used with permission from Jason Ricci & New Blood. You can purchase their newest album, Done with the Devil, directly from the record label, Amazon (CD) (MP3), oriTunes, or call your local record store and ask for it!
Additional music for this episode of Radio Free Nintendo is copyrighted to Nintendo, and is included under fair use protection.