Billy returns to RFN, and this time, he stays for nearly the entire show.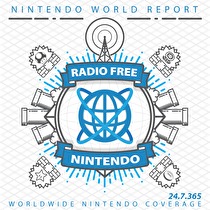 Subscribe via iTunes (Please rate and review, too!)
Jon is out yet again due to circumstances beyond his control; he positively swears that he'll be back next week! Taking over the senior chair at our RFN table this week is Billy Berghammer, a dude you might know from here or there. He's got a few thoughts on the recent 3DS news and what's to come for the system, plus tempered impressions for Shadows of the Damned, the latest game from a certain Suda 51 who may be coming up again soon on this podcast. Jonny dives into the memory hole with Final Fantasy 3/6, which is better than ever on Virtual Console, and he also catches up with Bulletstorm, the innovative and apparently under-performing FPS from Epic Games. James has a buffet of Summer of Arcade demos and seems to especially like Bastion. Greg wraps up the segment with hands-on impressions of Skyward Sword and eyes-on impressions of Xenoblade Chronicles.
In Listener Mail, we field your magnificent queries on topics like how Nintendo's troubles with 3DS will influence their handling of Wii U, and reverse-import suggestions for Japanese gamers who want to check out the Western world's exclusive treasures. Then Billy has to run, but we keep on truckin' through a pair of additional letters. The last two include an assessment of the Fire Emblem series (and similar games) and the fantastically fun question of which characters we'd like to see in the next Smash Bros game(s).
RetroActive #19 has been decided -- we'll be playing Killer 7 in a matter of weeks, so stock up on canned food and ammo. If you dare to play along, or just want to observe gamers in agony (kidding... sort of), check out the official discussion thread. Your comments could be read on the podcast! Also, thanks again to everyone who voted and made this poll our most successful yet.
This podcast was edited by Greg Leahy.
Music for this episode of Radio Free Nintendo is used with permission from Jason Ricci & New Blood. You can purchase their newest album, Done with the Devil, directly from the record label, Amazon (CD) (MP3), or iTunes, or call your local record store and ask for it!
Additional music for this episode of Radio Free Nintendo is copyrighted to Nintendo, and is included under fair use protection.