More 3DS, more Pokemon, more cult favorite Wii games, and a secret RetroActive?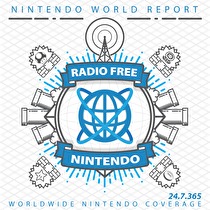 Subscribe via iTunes (Please rate and review, too!)
It's time for another action-packed episode of your favorite Nintendo podcast! James is up first in New Business with After Burner Climax, Ridge Racer 3D, and Protect Me Knight. Jon has an update on Pokemon Black/White and even claims to have made progress in Chrono Trigger. Greg wraps up Pilotwings Resort and launches a roundtable discussion on Mega Man X, which just hit Japan's Virtual Console. Both Jonny and James celebrated this event by digging out the Mega Man X Collection for GameCube, which also prompts some hardware impressions of the famous and wildly overrated Hori Digital Controller. After an extensive MMX conversation that could probably qualify as an impromptu RetroActive in its own right, Jonny concludes the segment with brief but damning observations on Fragile Dreams for Wii.
After a quick break, we jump into your fantastic Listener Mail. Topics include old games that may never be released again, specifics on 3DS implementation for DSiWare, the future of wrasslin' games on a certain new handheld, and the possibility of patches for buggy games like Tom Clancy's (TM) Ghost Recon: Shadow Wars.
RetroActive properly returns next week with Legend of the Mystical Ninja (SNES) -- be sure to play it for yourself and leave a few comments in the official forum thread! It's available worldwide on Virtual Console.
This podcast was edited by Greg Leahy.
Music for this episode of Radio Free Nintendo is used with permission from Jason Ricci & New Blood. You can purchase their newest album, Done with the Devil, directly from the record label, Amazon (CD) (MP3), or iTunes, or call your local record store and ask for it!
Additional music for this episode of Radio Free Nintendo is copyrighted to Nintendo, and is included under fair use protection.