Some of us have 3DS, and all of us have your provocative emails. Are Nintendo fans too negative about Nintendo?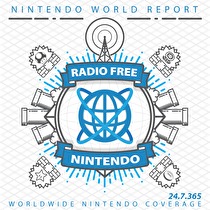 Subscribe via iTunes (Please rate and review, too!)
With 3DS now available around the world, it makes a perfunctory debut in New Business. James sucks at Street Fighter and frowns upon Ubisoft's lackluster port of Rayman 2, while he and Greg are both enjoying PilotWings Resort. Greg also provides an update on the Japanese Virtual Console and gets very excited (as he should be) for Mega Man X. Jon has been sick lately, but he does bring a report on the PS3 Move Sharpshooter, a high-quality cross between the SNES Super Scope 6 and Wii Zapper. Jonny caps the segment with his thoughts on Beyond Good & Evil HD, and the validity of comparisons to the Zelda franchise.
After the break, we get into somewhat serious territory with an email about negativity among Nintendo fans (particularly your devoted RFN crew). Why are we so critical of Nintendo, and is there anything that still excites us? Further adventures in Listener Mail take us through enhancement devices like Game Genie and Game Shark, one fan's impressions of 3DS and its launch titles, and the unusual backwards-compatibility feature of 3DS.
Finally, we've selected the next RetroActive game: Legend of the Mystical Ninja! This bizarre, fun SNES classic is available everyone on Virtual Console, so we hope you will consider playing along. Join the official forum discussion and let us know what you think!
This podcast was edited by Greg Leahy.
Music for this episode of Radio Free Nintendo is used with permission from Jason Ricci & New Blood. You can purchase their newest album, Done with the Devil, directly from the record label, Amazon (CD) (MP3), or iTunes, or call your local record store and ask for it!
Additional music for this episode of Radio Free Nintendo is copyrighted to Nintendo, and is included under fair use protection.