Known fact: dinosaurs love watermelons. Sometimes.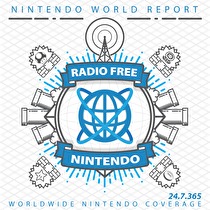 Subscribe via iTunes (Please rate and review, too!)
Our planned guest took a rain check, but TYP jumped in on very short notice to save the day! It's a good thing too, because he knows plenty about Yoshi's Story. But first, New Business! Mike has been trying out Zack & Wiki, one of our favorite original Wii titles. Greg is enjoying Castlevania: Lords of Shadow despite it not being very Castlevania-y. James has played all the way through Final Fantasy: The 4 Heroes of Light. Finally, Jonny grumbles about two disappointments, Comic Jumper and Sonic 4 (though he's questionably qualified on the latter).

Next up is RetroActive #14, the N64 edition. You elected Yoshi's Story for the honor, so we all played it. There is praise for the visuals, the ambitious design, and even the controversial soundtrack. However, we have a number of misgivings as well, and so do you, judging from the forum comments. Yoshi's Story may not be the dino-pal's finest hour, nor our favorite RetroActive game, but it was worth playing and makes for an interesting discussion. Thanks for participating, and look for the next RetroActive (Second Chance Edition), coming soon!

On the next episode... Jon returns! (We hope.) And our mystery guest should finally reveal himself. Think 2D.

This podcast was edited by Greg Leahy.
Music for this episode of Radio Free Nintendo is used with permission from Jason Ricci & New Blood. You can purchase their newest album, Done with the Devil, directly from the record label, Amazon (CD) (MP3), or iTunes, or call your local record store and ask for it!
Additional music for this episode of Radio Free Nintendo is copyrighted to Nintendo, and is included under fair use protection.