For the first time ever (really!), hear Mike, Evan, Stan, and Karl on the same show.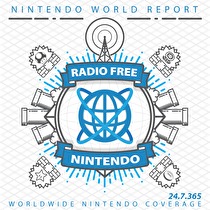 Subscribe via iTunes (Please rate and review, too!)
On this very special episode of Radio Free Nintendo...
We often get requests for the original RFN crew members to appear on the show; now you're getting a special treat, because this episode has all four classic podcasters, and none of the current crew is around to interfere with their antics!
Co-founders Evan Burchfield and Mike Sklens join "Nintendo Pirates" Karl Castaneda and Stan Ferguson to discuss recent games, RFN trivia, and their frustrations with Nintendo since leaving the staff of our fine website. Believe it or not, this is the first time all four of these guys have been on a show together!
Note: Your regularly scheduled program will continue this Sunday, with RFN Episode 156. Enjoy this bonus edition, full of nostalgia and immaturity!
Credits:
This podcast was edited by Karl Castaneda.
Music for this episode of Radio Free Nintendo is used with permission from Jason Ricci & New Blood. You can purchase their newest album, Done with the Devil, directly from the record label, Amazon.com, or iTunes, or call your local record store and ask for it!