News is back by popular demand, and we finish up Luigi's Mansion.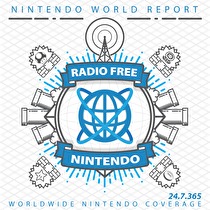 Subscribe via iTunes (Please rate and review, too!)
This episode starts off with chatter upon Animal Crossing and Retro Game Challenge, plus a bunch of games on other systems, including a bit of Soul Calibur 4 vs. Street Fighter 4 action. Then we complete a round of RetroActive, with coverage of the final Boos and final boss in Luigi's Mansion. We're taking a break from RetroActive next week, then it's on to Eternal Darkness! Be sure to drop your suggestions for upcoming games in the forums, and look out for the next poll to be launched soon.
After the break, it's time for Listener Mail. Zelda's save system, rumors on NWR, and a 60-second game design challenge are all up to bat. The show ends with a survey of recent news developments, from Commodore 64 on Virtual Console to details of the new Dead Space game for Wii.
Credits:
This podcast was edited by Greg Leahy.
Music for this episode of Radio Free Nintendo is used with permission from Jason Ricci & New Blood. You can purchase their new album, Rocket Number 9, directly from the record label, or download it from iTunes, or call your local record store and ask for it!