This big show includes lots of New Business, your Listener Mail, and even a news segment!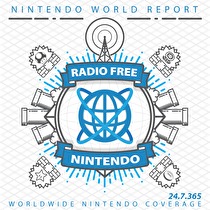 Subscribe via iTunes (Please rate and review, too!)
It's always nice to have new games to talk about too.
The gang's all here for a robust episode with tons of game discussion. We start with Mass Effect, World of Goo, Castlevania 3, Personal Trainer: Math, and Legend of Princess in a spirited round of New Business. Next up is the conclusion of the Dynamite Headdy RetroActive feature, with more of your comments from the forums. The next RetroActive game is Luigi's Mansion, so find your copy and play along with us!
After the break, we read emails about Chrono Trigger, Miyamoto's walkthroughs, the next Zelda for Wii, and even Nintendorks. The show ends with a little news section on all the recent game announcements for Wii and DS: Boom Blox 2, Crystal Bearers, Spore Hero, and more.
Credits:
This podcast was edited by Greg Leahy and James Jones.
Music for this episode of Radio Free Nintendo is used with permission from Jason Ricci & New Blood. You can purchase their new album, Rocket Number 9, directly from the record label, or download it from iTunes, or call your local record store and ask for it!