Let the Reviewers' Rage flow through you.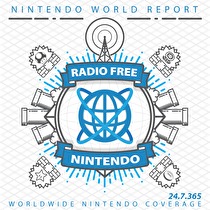 Subscribe via iTunes (Please rate and review, too!)
Short, on topic, and informative? Not your average RFN!

The battle-hardened RFN team assembles once more to tackle the most pressing matters in Nintendo gaming today, beginning as usual with our (less than entirely) New Business. Jon teases us with the prospect of another long-overdue review while exploring the joys of reading on the go; Greg braves the perils of online Wii games with Pro Evo Soccer and Dr. Mario; Jonny gives us a sneak peek at the next Trauma Center for DS, while James continues to let Square Enix plunder his Wii Points.
Catching up with our backlog of emails in the second segment, we provide answers to the burning issues you care about, including: small developers we want to see working on Wii, Nintendo propaganda movies of the past, and the chances of a comeback for everyone's favorite gyroscope-holder, ROB. Also, the crew seeks closure by swapping war stories about reviewing awful games (no prizes for guessing James' picks), before ending with a look at the week's WiiWare and VC updates.
Credits:
This podcast was edited by James Jones.
Music for this episode of Radio Free Nintendo is used with permission from Jason Ricci & New Blood. You can purchase their new album, Rocket Number 9, directly from the record label, or download it from iTunes, or call your local record store and ask for it!