We cut out a whole segment of the show, and it still managed to be the longest (and best?) one yet.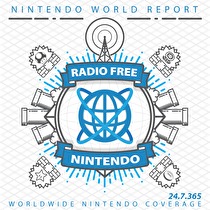 Subscribe via iTunes (Please rate and review, too!)
Why won't they let me play my expensive digital card game in peace?

(Note: Jon Lindemann's first minute of audio was lost, but you'll hear him soon enough.)
You should know the crew by now: James, Greg, Jon, and Jonny can't shut the hell up about video games, and that's the way you like it. The chemistry and banter reach a new level on this episode. We talked for nearly two hours, but it felt like just a few minutes because we were having so much fun.
James busts out the Power Glove, Greg gushes over Geometry Wars, Lindy muses upon digital novels, and Jonny reveals his secret gaming addiction to stunned silence. We had so much fun talking about games that we just left out a news segment, choosing instead to spend longer on reader mail and a look at the forums. At a hefty 1:51, this show has more than enough hilarity to get you through the week.
Credits:
This podcast was edited by James Jones.
Music for this episode of Radio Free Nintendo is used with permission from Jason Ricci & New Blood. You can purchase their new album, Rocket Number 9, directly from the record label, or download it from iTunes, or call your local record store and ask for it!